Comparing shipping solutions is time-consuming and complex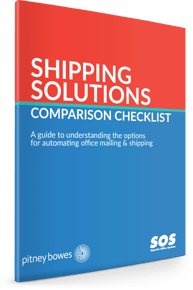 As providers of office technology, we found it incredibly complicated trying to vet mailing & shipping software and equipment to recommend to our clients. That's why we created this Shipping Solutions Comparison Checklist. Trust us, it would take you many, many hours to glean the information we've put together. You'll get:
A spreadsheet that clearly shows which features are offered by 7 major vendors.
A guide that explains the important features related to rates, usability, management and more.
Helpful tips about why these features matter.
Don't waste your time trying to compare shipping services by finding all this information on 7 different websites. Luckily, we've done all the work for you in this shipping comparison guide.
Don't miss out on this guide that will simplify your search for the right shipping software for your company.
Get the guide NOW