Shipping shouldn't be hard, but it can be.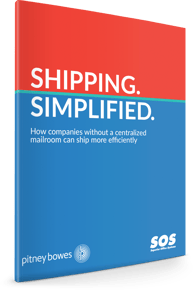 How many steps do you go through for every large envelope and package you send? Small to medium sized businesses waste a lot of money and manpower on complicated, time-consuming office shipping tasks. Find out how to ship more efficiently with this helpful ebook. Here are the shipping optimization secrets you'll learn:
Why shipping is getting more complicated all the time
Just how much your inefficient shipping routine is costing you
How to easily compare rates and choose the most economical way to send each package
How to print the correct barcodes to get commercial USPS rates
Tricks to reduce unexpected charges from FedEx and UPS
How to monitor expenses to control costs
Don't miss your chance to reduce shipping costs!
Save on shipping costs and make your life easier at the same time: download Shipping Simplified now!