Get the Newbie's Guide to Leasing a Copier
Learn the facts before signing a contract for leasing a copier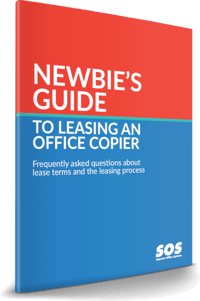 If you've never leased office equipment before (or even if you have) there's a lot to know, and we understand it can be stressful. With this guide, you can eliminate that worry, because it includes all the information you need to avoid mistakes with photocopier leasing and to get the best agreement for your organization.
Here's a sampling of what you'll learn:
How to decide about leasing a copier vs. buying or renting
What to consider when choosing your lease term
Clauses you should never agree to if you want to keep down the cost of leasing a copier
The essential facts you must know to avoid getting stuck for an extra year at the end of your lease
How you may be able to get out of a bad lease
What to do to avoid being trapped with poor service
**Don't miss your chance to avoid making mistakes when leasing a copier machine that you'll be stuck with for 5 years.
Get your copier leasing guide NOW!