Evaluate Your Office Copier Company's Service Before You Buy.
Learn what to look for to ensure you'll get the best service to fit your needs.
If you've spent months evaluating copier companies for your business and you're still unsure about buying from a vendor you haven't worked with before, you're not alone.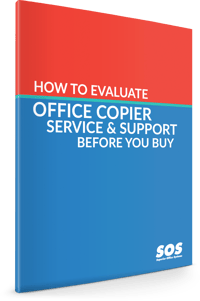 Even if the equipment looks right for your needs, and the price is in the ballpark, how can you be sure this copier supplier will stand behind its equipment after you sign the contract?
When it comes to choosing essential office equipment like copiers and multifunction printers, evaluating post-sale service is just as important as evaluating the product itself. Use this guide to help you get a realistic picture of a potential copier company's service and support operation. Here's what you can expect:
The 7 must-have services you should expect from a copier repair & maintenance company.
How to evaluate their pre-sale support.
4 key questions you should ask about their support team.
How to get truly useful references.
Download your free copy of our guide to Evaluating Office Copier Service & Support Before You Buy and get on the right track to choosing the best supplier for your needs.