Learn how to manage today's In-plant print
job submission challenges with automation solutions.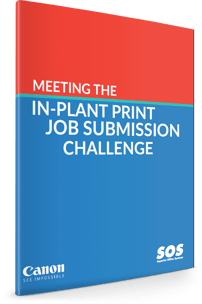 Sending an e-mail may seem like a fast, easy way to communicate. But using e-mail to send print files to the In-plant printing facility or Corporate Reprographics Department (CRD) is far from efficient.
Streamlining the job submission and communication process can improve In-plant efficiency and performance as well as build customer satisfaction. This comprehensive guide will give you insight into the advantages of automating time consuming tasks using solutions such as web-to-print and client portals.
Learn how to maintain a smooth-running operation, while minimizing waste and containing costs.
Avoid easy errors, and wasted time and money.
Improve efficiency and build customer satisfaction.
Transform your business today from a commodity supplier to a solutions provider by automating your in-plant print job submissions.